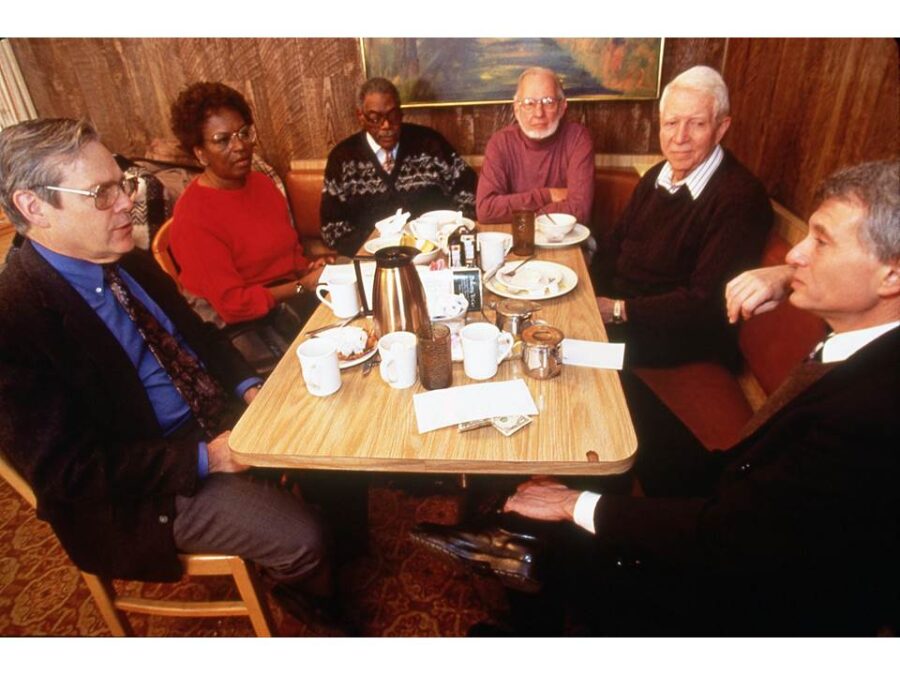 Over thirty years ago, we began with a modest start to revitalize a neighborhood on the east side of Syracuse. Rev. Hal Garman of the University United Methodist Church saw the community surrounding the church declining and in need of investment. He established a task force, chaired by Winston Gaskin and Kenyon Craig, to discover what—if any—plans the larger community had for the Greater East Genesee Street Neighborhood. Finding no other plans, Rev. Garmin, Gaskin and Craig joined forces with a group of dedicated citizens to make a positive change in that Syracuse neighborhood.
This effort proved to be a catalyst for positive and lasting changes that still bears fruit today. Housing Visions Unlimited, Inc. formally incorporated as a 501 (c) (3) nonprofit in February of 1990 to improve the quality of housing and quality of life using a unique scattered-site, urban infill approach with Kenyon Craig serving as the President & CEO.

Kenyon and the Board always desired to create a replicable model outside the east side neighborhood in Syracuse. Soon other neighborhoods took notice and expansion began, first in Syracuse and then beyond. This original neighborhood revitalization model continues on each project to this day. Interacting and collaborating with neighborhood residents, local organizations, and officials that recognize the need for high-quality, affordable housing is key to our model and our success. Each partnership is unique to the specific project, merging the abilities and the dedication of those involved to bring about a long lasting revitalization.
Through our early experience as a Developer and Property Manager, it became clear that Housing Visions needed a general contractor that could quote projects, control schedules, and control the quality of the end product. In order to fill these needs, Housing Visions Construction Co., Inc. (HVCC) was formed in 2002 as a 501 (c) (3) nonprofit. HVCC provides construction services and/or consulting on all Housing Visions development work. Their efforts are critical to producing high quality work and are a significant contributor to the overall revenue of Housing Visions.
We have learned many things along the way but the point is this: with each new development undertaken, we learn and grow as a company. Those lessons and that experience make us a better partner for each new community we work with and each endeavor we tackle.
As our organization grows and matures, a significant focus will be the preservation of our affordable Housing. Winston Gaskin Homes in Syracuse was recently completed and was the modernization and preservation of 20 of our original buildings. We expect to replicate that experience throughout our portfolio and ensure that our tenants live in high quality housing that is a beacon of pride in the neighborhood.
We will build on the success and lessons learned from the previous 30 years. Housing Visions will embrace collaboration and partnerships to solve housing and community issues. Our 30+ years of expertise will be used to improve the communities where we work.
As Housing Visions moves forward the organization will focus on three priorities that will propel Housing Visions in new, innovative directions:
Neighborhood Revitalization. Develop inclusive neighborhoods to create sustainable, mixed-income, mixed-use communities.
Affordable Housing. Provide high quality, safe, energy efficient, affordable housing to meet market demand and increase economic self-sufficiency.
Resident Services. Engage residents in their communities to ensure they stay stably housed through access to services and assistance when needed.
These priorities will help Housing Visions nurture the sustainability of our communities, broaden partnerships, and elevate our residents in their communities.