July is Disability Pride Month, which marks the anniversary of the Americans with Disabilities Act (ADA) being passed on July 26, 1990. The ADA is a civil rights law that prohibits discrimination against individuals with disabilities across all areas of public life; this includes jobs, schools, transportation, and employment, to name a few. Its purpose is to ensure that all people with disabilities enjoy the same rights and opportunities as others. According to The Valuable 500, Disability Pride is rooted in the same fundamental concepts as movements like LGTBQ+ and Black Pride. In 2013, Chicago defined their Disability Pride Parade mission in three ways: "To change the way people think about and define "disability," to break down and end the internalized shame among people with Disabilities, and to promote the belief in society that Disability is a natural and beautiful part of human diversity in which people living with disabilities can take pride."
What does disability pride have to do with affordable housing?
One aspect of Disability Pride is realizing that people with intellectual and developmental disabilities (IDD) have often been made to feel ashamed of their disabled identity by society. The fact that disabled individuals need "accommodations" or special services just to perform basic tasks can lead one to feel internalized feelings of shame. If we take a look at the social model of disability, we see that while those with disabilities have medical conditions, it is actually society's inaccessibility that disables most people. Housing has long been and continues to be an area of deep need in regards to both accessibility and affordability. (TheValuable500.com)
Affordability and Accessibility
According to TheArc.org, "Approximately 4.8 million non-institutionalized people with disabilities who rely on federal monthly Supplemental Security Income (SSI) have incomes averaging only about $9,156 per year – low enough to be priced out of every rental housing market in the nation." Many people with IDD are adult children living with aging caregivers. As those caregivers become unable to care for their adult children, it puts the individual with IDD at risk of institutionalization or homelessness due to the lack of ability to pay for their own living expenses on a fixed income.
Accessible homes offer such features as widened doorways, lowered counters and sinks, wheel-in showers and entrances with no steps. Units with these features are limited in quantity and are often priced far above what is affordable which can make finding housing a daunting task.
While the Fair Housing Act prohibits discrimination based on race, color, religion, sex, disability, familial status and national origin, complaints from people with disabilities often make up the majority of discrimination complaints received by the Department of Housing and Urban Development (HUD).
What is Housing Visions doing to help?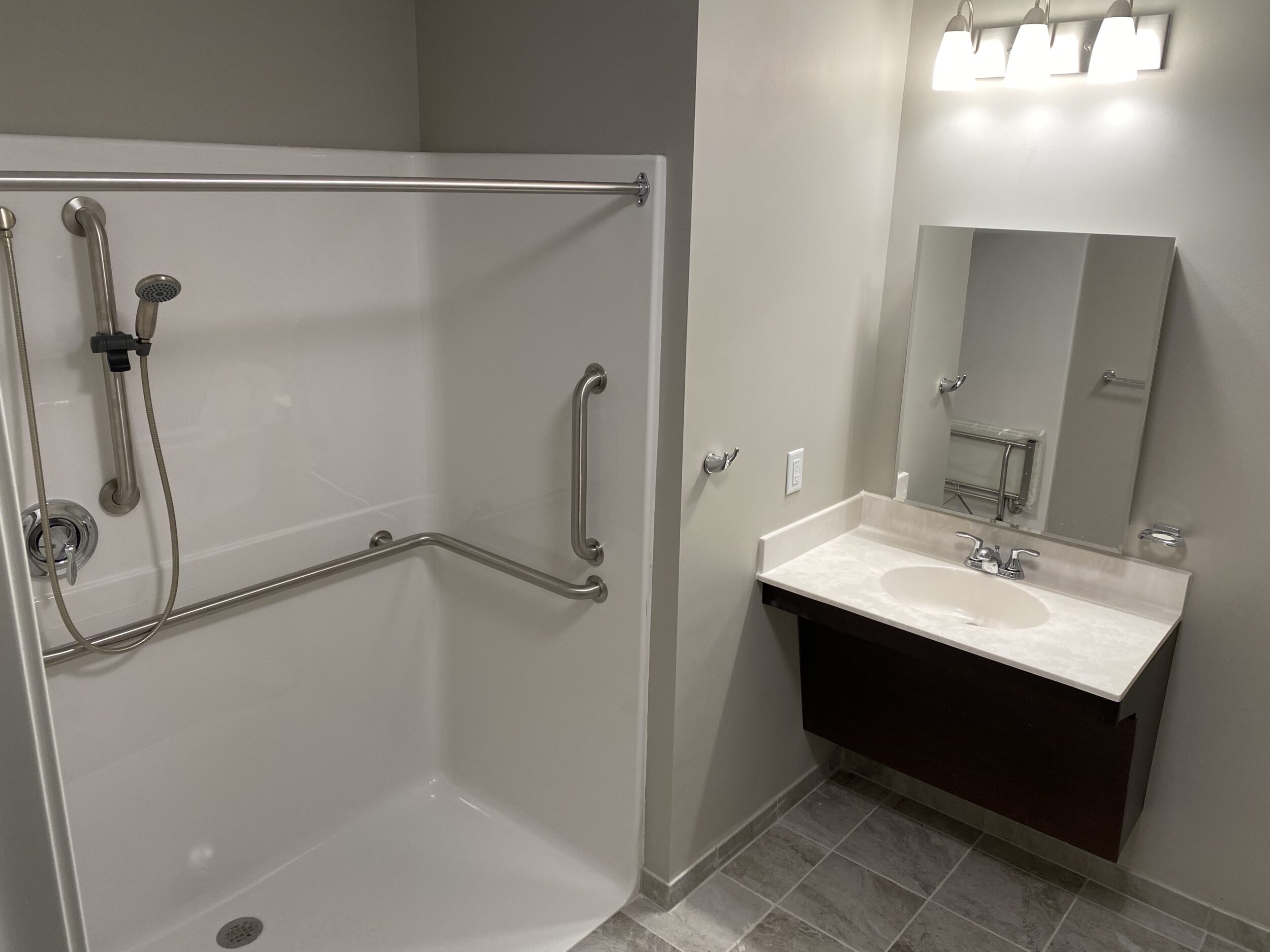 At Housing Visions we recognize the urgent need for affordable, accessible units. The majority of our properties feature stair-free accessible entrances. Many of our properties have specific units that meet ADA accessibility standards for mobility, hearing and vision disabilities. There are mobility accommodations in 170 units across our portfolio which feature lowered counters and cabinets, widened doorways, wheel-in showers and lowered closet fixtures; 89 units are hearing accessible with features such as strobes for fire alarms, smoke detectors and doorbells; 87 units possess features such as brail signage and unit numbers for sight accommodations. These units all fall within affordable housing brackets with income requirements ranging from 30-90% of the median income for the area.
There is still much work to be done in the area of accessible and affordable housing. Our local partnerships with such advocacy programs as Arise are a valuable asset to connecting those in need with our housing services. Arise provides referrals for those in need of housing as well as ongoing assistance as part of our network of supportive housing partners. Our mission is to provide dignified housing to those in all walks of life, including those whose experience with an inaccessible world is often what removes their sense of pride in themselves. A home is just the beginning, but it is one of the most important parts of a person's autonomy.